A Curiouser and Curiouser Series by Erin Pyne, Illustrated by Cayce Moyer
Book One: Pool of Tears
'This dream makes no sense,' Alice thought. 'But when in a dream I rarely think that I am in one. How strange that I would wonder about the dream while still in it.' Alice emerges from the Pool of Tears in Wonderland. Time-cursed Hatter leads Alice in her search for a way home and both realize they may be more than just friends as they become caught between the vain Queen of Hearts and the masked Red Queen in a mad race for the White Rabbit, each for their own ends. Fighting mechanical chess pieces and eluding a deck of armed Suits, Alice and Hatter search for the Cheshire Cat, whose answers may only create more questions.
Get it today! Paperback or Kindle: Click on the Book!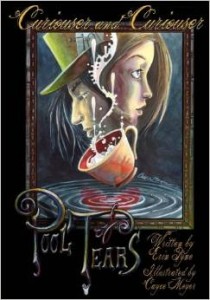 The second book in A Curiouser and Curiouser Series! Alice and Hatter travel across Wonderland searching for the Caterpillar in hopes he will find a way to send Alice home to Oxford, where her sister lies unconscious in a hospital. Pursued by both the Queen of Hearts' cards and the Red Chess Queen's knights, Alice and Hatter are still unsure if they can trust each other as they enter the Darklight Forest. Separated from Hatter, Alice goes through several transformations eating and drinking the strange offerings in Wonderland. She attends a royal ball, converses with flowers, and sneaks into a castle, all the while realizing that Hatter may be after something more than his quest for a cure to Tea Time. Time is running out for Alice who discovers the Red Queen has a secret that could change everything!
Get it today! Paperback or Kindle: Click on the Book!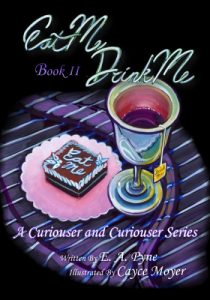 "Wonderland is reimagined in Erin Pyne's phantasmagorical spin on a timeless tale, accompanied by chimerical art by Cayce Moyer." ~Paula Morrow, Editor and Reviewer "
A marvelously twisty, romantic take on one of our most beloved fantasy landscapes. Erin Pyne may be after the Queen of Heart's crown!" ~ Melissa Anelli, Bestselling Author of Harry, A History.